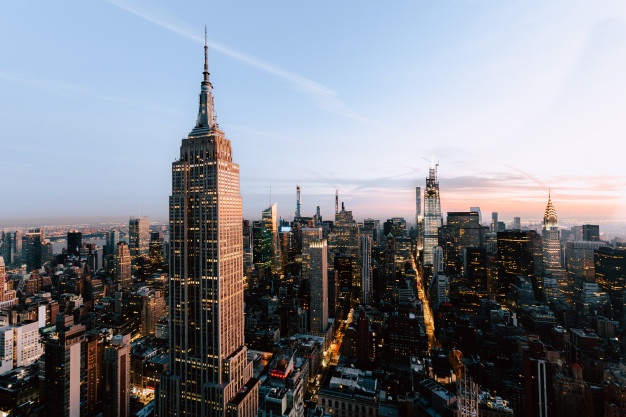 WHY STUDY IN USA?
The USA is the number one destination for international students and it's not hard to see why. Find out what it's like to study in the 'land of opportunity'
Spanning six time zones the USA is regarded as one of the finest education providers in the world and sees increasing numbers of postgraduate students' flock to its universities each year. Universities in the United States are acknowledged as top-notch.
While Studying in USA you'll have the pick of thousands of institutions and degree programmes, as well as the opportunity to broaden your cultural horizons by experiencing American campus life. You can also give your CV a boost by getting involved in the huge variety of clubs and organisations on offer, including sports.
Popular student cities include Boston, Chicago, Los Angeles, New York City and San Francisco but if you're sights are set on a less obvious destination you have 50 states to choose from.
Degree courses in the USA
There are two types of undergraduate degree courses to study in USA:
Associate degrees – take two years to complete and are usually studied at technical, community or junior colleges. Students can study for an associate qualification in a range of subjects and then transfer to a Bachelors programme to complete an additional two years of study to gain a Bachelors degree.
Bachelors degrees – take four years to complete. They differ from UK undergraduate degrees in that students study a variety of subjects before deciding on which to focus on, known as a 'major'. Students may also gain a 'minor' qualification by completing classes in an additional subject alongside their 'major'.
For entry onto a Bachelors degree you'll need at least five GCSE passes and two A-levels. To ensure that your chosen university recognizes your qualifications you'll need to contact the admissions office.
PhDs
A Doctoral degree is the highest qualification that a student can achieve in the USA. They typically take four to six years to complete. To be awarded with a PhD you'll need to pass comprehensive examinations and produce original research, usually in the form of a dissertation. Commonly studied subjects include anthropology, biology, education, engineering, psychology and sociology.
Student exchanges
UK students and graduates can apply for a range of exchange opportunities with the Fulbright Commission's Fulbright Awards Programme. You can attend a US institution to pursue a postgraduate degree or lecture and conduct research in the USA. Many UK universities are partnered with a US counterpart or are members of the International Student Exchange Program (ISEP). For example, the University of Central Lancashire (UCLan) is an ISEP member and has partners in the USA and other countries.
Course Fees
Procurement of student visa in the USA and studying there is expensive and so any decision to study here should not be taken lightly.
Public universities charge two sets of fees: a lower rate applies to in-state students while a higher rate is charged for all out-of-state students. Private institutions don't differentiate between out-of-sate and domestic students and charges the same rate for all, although fees will be higher than at public universities.
Fees for graduate programmes vary widely depending on your chosen subject and institution. For example, course fees and living costs at a top ranked institution could cost as much as $70,000 (£55,000) but there is financial help available depending on your circumstances. To find out exactly how much your postgraduate course costs contact your university.
While tuition fees are pricey the annual cost of living is generally much lower than in other countries such as the UK.
Funding to study in the USA
Each year international students receive a significant amount of financial help. Funding for overseas students does exist and generally differs between institutions. Some provide scholarships covering the entire cost of study, while others contribute towards the overall cost. Common sources of funding include: Needs-based financial aid – if your family income falls below a certain amount then many institutions can assist with tuition fees and accommodation. Merit scholarships – for those with outstanding talent or excellent grades in a specific subject. Sports scholarships – for talented sportsmen and women. You need the required grades as well as sporting excellence. Around 20 scholarships are offered each year by the Fulbright Commission Award Programme. UK students looking to pursue a postgraduate degree are eligible, with awards varying from journalism to medicine. For a list of awards visit Fulbright Commission – Awards and Programmes for UK Postgraduates. Several institutions also set aside a significant sum to assist international undergraduates.
Student visas
Any foreign national looking to enter the USA will need a visa. The F-1 non-immigrant visa is the most common type for those wishing to study in the USA at an accredited college or university. You'll need to have been accepted and approved on your course before applying for one. You will then register with the Student and Exchange Visitor Information System (SEVIS) and there is a $200 (£155) fee for this. You will also need to make an appointment for a visa interview with the US embassy in your country. You'll need to bring the following: your passport your visa application form financial documents. The earlier you start this process the better – F-1 visas can be issued 120 days before your course start date. US visa requirements can be complicated so for a complete guide visit the US Department of State – Student Visas. Due to the current political situation in the US and the changeable nature of immigration laws, nationals of predominantly Muslim countries will need to keep a close eye on any rules or restrictions that may affect them entering the USA.
How to apply
It can take longer to apply to a US institution due to the various stages you must negotiate. It's advised that you apply 12 to 18 months in advance. The Fulbright Commission recommends that you apply to no more than six institutions – this will allow you enough time to focus on each application while giving you an increased chance of success. To study in the USA all students must apply directly to their chosen institution and sit a multiple choice admission exam. Most universities require students to sit SAT or ACT exams. They can be taken in test centres around the UK and cost roughly £50 each. Kaplan provides free SAT practice tools as well as SAT and ACT test preparation courses. Additionally you'll need to provide: an application form a personal statement transcripts of academic records two or three recommendation letters admission exam scores. For graduate programmes you may have to provide a research statement and CV and also attend an interview. All students must pay an application fee to each university, usually $50 to $100. Application deadlines for postgraduate study vary but most fall between November and February.
Language requirements
Courses in the USA are taught in English. If English is not your first language then you will be required to sit an English Language Proficiency test. The TOEFL and IELTS tests are widely accepted.
Qualifications gained at US institutions are widely respected and recognized around the globe.
Among the USA education consultants, RSR Global stands out as our team of experts find the best courses for the pupil and provide stepwise guidance and support.
American universities
Eight institutions also make up the Ivy League, a group of prestigious colleges: